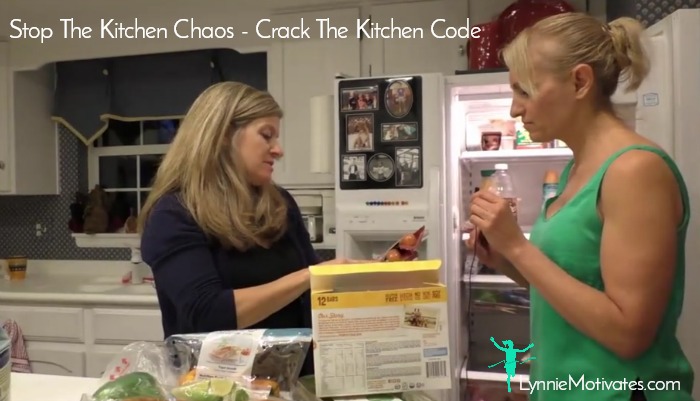 Crack The Kitchen Code – From Chaotic to Organized In 6 Simple Steps

(also published on Huffpost)
Who likes to work in a kitchen that's disorganized and chaotic? As the heart and soul of your home, the kitchen should make you feel good when you go to prep and prepare the foods you love.
That's why a clean, decluttered, and organized space makes whipping up your creative kitchen magic more fun and enjoyable, even if your idea of magic is nuking a bowl of macaroni and cheese. The key to kitchen nirvana is surrounding yourself with what you actually use, tossing out what you don't, and keeping it decluttered and organized – and you're going to love this; it's not really all that difficult.
Check out these 6 simple suggestions to help you in organizing your kitchen, eliminating waste and stress, and creating a happy space for your busy creative self.
1. Reality Check
This step continually comes to my rescue in any cleaning, organizing, or decluttering exercise in my home.
Stand in your kitchen and look at it like you are seeing it for the first time. What do you see? What do you cherish, what do you always use, what needs to go, and what is missing? Do a complete scan from a stranger's perspective and things that need your attention will start to pop out at you and become obvious.
2. Break your organizing efforts down into bite-size pieces
It can feel overwhelming to look at all the cupboards and drawers that need to be organized and can feel like an overwhelming time monster – a BIG job. But, it's really not! Not when you do it in bite-size pieces that is!
-Pots, Pans, Dishware – A wall or hanging pot rack to hang your pots and pans is especially helpful, and even necessary if you need to free up space under your counters. If hanging your cookware is not like hanging a Picasso, go through all your cookware (and dishware) and recycle or donate the extra bits and pieces you've accumulated over the years (e.g. Goodwill, Arco, Good Samaritan) so you can free up space under the counter to organize the pots, pans, and dishware you decide to keep.
-Cupboards and Drawers – De-clutter and organize one cupboard or drawer every few days, or one a week, and you won't feel that overwhelming pressure of such a large job that feels soooo big you freeze and never even start. Unless you're overly ambitious, put one hour on the calendar each week to clean out one kitchen cupboard or drawer (like your crazy spoon or junk drawer).
Spill everything out onto a table and then go through each item and decide what you use and what you don't. Be honest with yourself here. Then, either recycle or donate all the excess utensils you never use along with the ones you forgot were even in there. Don't think about it, just donate, recycle, or toss it.
3. Kitchen Appliances 101 – Keep your kitchen stocked ONLY with appliances you use (or will use in the future)
These don't have to be the latest or greatest. If you have a blender and you use it, it's the perfect blender because you use it. If you have a juicer and don't use it (and probably never will), give it away and declutter your counter. All it does is sit there in your face and potentially create stress because a) it takes up valuable counter space and b) you may feel guilty about not using it.
If you think you'll use an appliance in the future, box it up and put a date 30 days from now in your calendar to revisit it and ask yourself, "is this something that I value enough to take up valuable space on my kitchen counter?".
Bonus Idea: Keep kitchen appliances used daily on the counter to save time, especially those that are multi-purpose (e.g. a Vitamix). Appliances sitting in cupboards and closets are typically a pain to pull-out and don't get used or, they are out of sight and out of mind. Sell, gift, or donate appliances you never use, or will more than likely never use, to someone who will, or to an organization.
4. Your fridge is your friend, don't let it become your enemy
Putting your food where you can see it is key to making sure it doesn't go to waste and you don't have a fridge full of moldy food to clean. First, if you know you don't use your crisper drawers or look in the back of your fridge regularly, don't put your food there. Second, mark one day a week on your calendar to do a 5-minute fridge inventory. Take stock of what's in your fridge, moving any food that's nearing its expiration date front and center so you know to include it in your meal planning and you won't have a pile of rotten, slimy cilantro hiding in the dark corner of your fridge three weeks later.
5. Stick to Spaghetti Squash Thursday… or any other tasty dish you can commit to making one night a week
Just thinking of meal planning can overwhelm you, let alone actually doing it! While it may seem boring or uninventive, having the same thing for dinner once a week can really help clear your kitchen and clear that mental clutter. Maybe every Thursday is spaghetti squash Thursday, or every Friday is gluten-free pizza night! If you have a consistent meal base, you can mix it up each week for variety and make it fun for yourself and your family. Another advantage of this strategy is that you'll also know what meal prep you'll need to do and can do it in advance, simplifying your schedule.
6. Never leave dirty dishes in the sink and clean as you go
There's nothing worse than starting your day off with dirty dishes in the sink, especially if you're in a hurry and have limited counter space to work – just thinking about it makes my shoulders tense. It's easier said than done at first, but making a commitment to doing the dishes every night before you go to bed creates a healthy habit that will alleviate stress first thing in the morning, will create space in your life, and definitely decreases kitchen clutter. To take it a step further, clean as you go in the kitchen so that the mess at the end of meal preparation is minimal.
You can do this!
Organizing yourself and your kitchen for success does not have to be difficult when you break everything down into bite-size steps! As you can see, it becomes very doable and achievable. You just have to be diligent about your goals and do one thing at a time.
Inviting a friend or two to join you in your organizing and decluttering efforts can be fun and very helpful (can you say girl's wine night!) as they won't let you keep things you might otherwise hang onto – then you can return the favor!
Have fun with this! Challenge yourself to create the organized kitchen you deserve and enjoy the benefits it brings! You'll see how organizing and decluttering your physical space can not only make you want to spend more time in the kitchen but free up and literally declutter your mind as well. Get present with it and enjoy the journey!
If you'd like to set up a kitchen consult for yourself or gift one for a friend, email me at lynnie@lynniewennerstrom.com or contact me by clicking here.